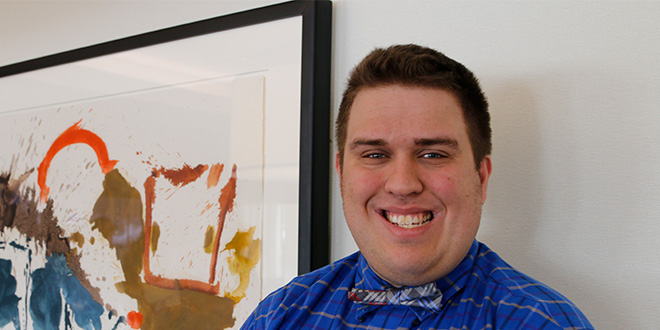 Over the years, the Jewish Federation of Cleveland has accumulated an extensive Israeli and Jewish art collection. And thanks to our recent 
Cleveland Israel Arts Connection
 intern, Cory Irwin, we are able to learn the stories behind each piece. During his six month internship, Cory cataloged the art collection and researched the history of each piece.
Through this experience, both Cory and the Federation learned more than just the backgrounds of artists as Marc Chagall and Helen Frankenthaler. We learned how powerful opportunity can be – for an individual and for an organization.
Cory has autism. Through the support of The Bobby Fund of the Jewish Federation of Cleveland, Cory came to the Federation from Milestones Autism Resources of Warrensville Heights, a non-profit organization dedicated to educating and coaching teens and young adults on the autism spectrum.
From the first day of his internship, Cory became part of the Federation family and our community. "I would say this was the right work and environment for the right person. With those two things, anyone with autism or on the spectrum can be an exemplary worker," said Cory. "With that support here at Federation, I was an exemplary worker and I know more people can do the same thing. They just need an open door."
"It was so awesome to watch Cory grow through this experience and see how successful he was through the end," said Haley Dunn, Milestones Teen and Adult Coordinator. "It's really a 'wow' moment for me to see all the work he put into this project. It's been a really great match, and I couldn't be prouder of Cory."
Continue reading →